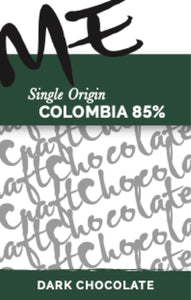 A chocolate of exquisite character with a defined aroma, typical of Colombian cocoa. A vigorous bitter flavour and a subtle sweetness combined with floral and fruity notes to give the ultimate expression in Extra Dark Chocolate. And it is naturally VEGAN!

100g
Ingredients: cocoa beans (cocoa mass & cocoa butter), sugar, emulsifier: SOYA lecithin, vanilla extract. Contains minimum 85% dry cocoa solids.
Allergens shown in BOLD

Produced in an area that handles nuts, peanuts, gluten, egg, soya, milk, sesame and sulphites. May contain trace elements.
Always store chocolate in a cool, dark location away from any heat source or direct sunlight.